So, this is my last post before I head off to California before I head off to Japan. I don't know if I'll have internet while in CA because the parents ... well, one of them does, and the other is doing dial up and I have lost the patience I used to have with it. Besides, I kinda want to hang out with them a lot. And then... JAPAN!

I'm sure I'll be boring you all with posts once I get there, as this year I'm supposed to have much better (and more reliable) internet access. But until then, in the words of the goofy reprobates (and I seriously hope they don't remake this movie): Be excellent to each other. And party on, dudes!


OH, and PS, for all you Cordelia lovers?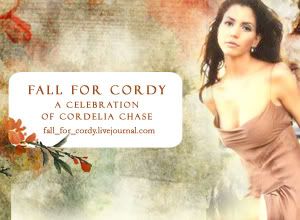 [user info] / [join] / [affiliate]



Friend? Love? Perhaps sign up?